7 WAYS TO USE THE HOTTEST MATERIAL AROUND: THE HUMBLE CONCRETE BLOCK
Sunday, 16 August 2015 7:37 pm
When it comes to cheap chic, wood pallets have been having their day, being transformed into everything from patio furniture to wall coverings. But now it's time for a new super affordable material to shine, and it is! Behold the humble concrete block, and all the cool things you can do with it.
"Why are cinder blocks so versatile? Perhaps it's the fact that their form is simple, clean-lined and modern," said Decoist. "And their color is a tone of gray that goes with everything.
Not to mention, many of these blocks have openings that are perfect for displaying plants and incorporating other materials, such as wooden beams."
Concrete blocks, or cinder blocks as they're also known, can be used indoors and out, on their own or in collaboration with other materials, painted or naked, and only cost a buck and change apiece.
All it takes is a little imagination, and some upper body strength to carry them to and from the car. Here are a few ideas to get you started.
1. Bed frame
Place a layer of concrete blocks under a mattress and you've got a great industrial look for just a few dollars. Paint them whatever color you want or leave them bare, and you can even use the cubby openings for storage.

Improvised Life
2. Coffee table
A couple of blocks and a wood top—try an old door you pick up at an antique store or garage sale—and you've got a standout table, like this one featured on Remodelista.
"Legendary designer and antiques dealer Axel Vervoordt created an informal coffee table with concrete blocks and a slab of wood in this Belgian interior.

Remodelista
3. Shelving
Need to create some inexpensive storage? Blocks + a couple of sheets of MDF = a stylish place to put your books and knickknacks that costs almost nothing and can be put together in a few minutes. Paint just the insides of the blocks for a unique look.

Remodelista
4. Stairs
A sloped hill in your yard can be a hazard, and can also be expensive to fix. A few cinder blocks filled with pebbles from Home Depot, and you have some pretty snazzy DIY stairs.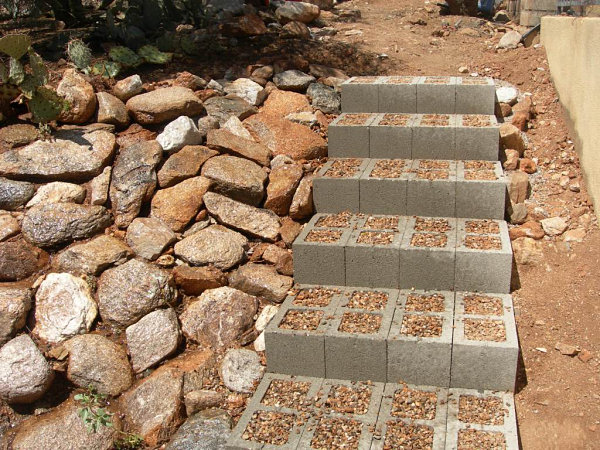 Decoist
5. Raised garden
Concrete blocks also make a great choice to create a raised garden bed that is "cheaper and more durable than using wood," said Apartment Therapy.

Apartment Therapy
6. Vertical garden
Need a cool place to display all those succulents? Check out this vertical garden made from cinder blocks and lots of liquid nails.

Curbly
7. Fire pit
Forget those expensive fire pits. With a couple armfuls of concrete blocks, you can build one of your own "for under $60," said Apartment Therapy.

Apartment Therapy